What Is Aquaculture?
Find this page at:
go.ncsu.edu/readext?592645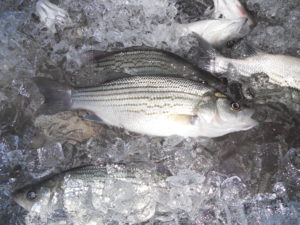 Aquaculture is the culture or production of any living aquatic resource. This includes finfish, crustaceans, molluscs, plants, algae, and even bacteria. In North Carolina, these aquatic organisms include: finfish; Striped Bass, Tilapia, Catfish and Trout, Crustaceans; Crayfish and crabs, and Molluscs; oysters and clams. All these species may be raised in "open" systems such as ponds and leased coastal waters, or "intensive" systems including recirculating aquaculture systems (RAS) and raceways.
Pond production systems
When we tal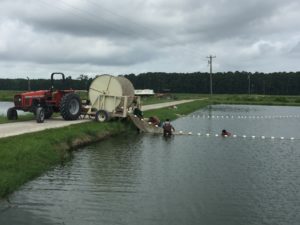 k about aquaculture, many people think of fish production in large open ponds. In North Carolina, this is most common for our warm-water fish like the hybrid Striped Bass and Channel Catfish. Due to the excellent land and water resources of our broad coastal plane, nearly half of our fish production occurs here. Ponds vary in size according to the rearing techniques best suited for the species. For example, Hybrid striped bass are often cultured in 3-4 acre ponds, while channel catfish are usually raised in 8-10 acre ponds. More information on specific fish production methods can be found using the "Species" tab.
What are Recirculating Aquaculture Systems (RAS) and why are they important?
As the name implies, RAS systems are enclosed systems that continually recycle/reuse water. These systems comprise multiple parts, from tanks and pumps to UV water sterilizers. The heart of these systems include sophisticated water filtration equipment where waste solids are removed mechanically and dissolved wastes such as ammonia and nitrite are removed using biological filtration. Oxygen is continually added to meet fish needs.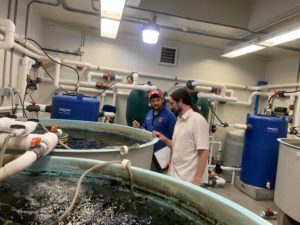 These systems are designed to produce healthy fish efficiently and at densities much greater than those normally found in ponds. In NC, Tilapia, Sturgeon and Hybrid Striped bass are the most common species raised using RAS technology. RAS facilities generally require more intensive management than pond sites. However, this level of detailed control is something many producers prefer. It allows for production practices to be continually fine-tuned at levels not possible with ponds.
What are our top aquaculture species?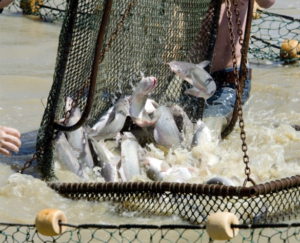 North Carolina is second in the nation in commercial trout production and a significant producer of catfish, hybrid striped bass, tilapia, oysters, clams, soft shell crabs, sturgeon, crayfish, and others. These species are generally "farm-raised" in different locations throughout the State due to corresponding water and land resource availability. Trout require cool, flowing freshwater, found in the western region. Tilapia and other RAS reared species tend to be produced in the Piedmont, while our warm-water fish and crustaceans are produced efficiently in ponds of the coastal plane. Shellfish are farmed using techniques designed for leased bottom or water column sites. The total value of North Carolina aquaculture is about $60 million/year.
Advantages of Aquaculture
Over the past few decades, many wild fisheries stocks have declined throughout traditional fishing regions of the world. At the same time, global demand for seafood has remained strong supporting expansion of aquaculture. By 2000 the supply of farm-raised seafood had exceeded wild caught products. In the U.S., aquaculture is approximately a $2 billion per year industry, however, seafood imports are estimated to be nearly $15 billion per year. With nearly 50% of this ($7 Billion) farm-raised,  growing more seafood in the U.S. can help reduce this deficit and lead to greater food security. Additionally, the production of farm raised seafood is both sustainable and efficient. Pound for pound, fish and shellfish can out compete the feed efficiencies compared to common poultry and livestock. Shellfish (oysters/clams) have been found to improve water quality as they continually filter water in the areas surrounding their culture. Developments in genetics, feeds, engineering, waste treatment, food safety and value-added product development, are additional areas of on-going research and industry activity. This website is dedicated to provide the best research-based technical information to assist those interested in learning more about this dynamic and fascinating industry. A short introductory video can be seen here.